Remodeling Canton MI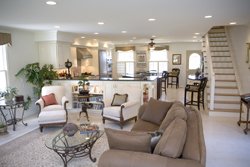 Stella Contracting, Inc. and Kitchens by Stella is a full service Remodeling Canton MI since 1976. Founded in 1958, our experience has firmly established us in the home renovation Canton MI and remodeling industry Canton MI. We are members of and actively participate in NARI (National Association of Remodeling Industry) and N.K.B.A. (National Kitchen and Bath Association). Jeff Stella has achieved a Certified Kitchen Designer (CKD) and Certified Aging-In-Place Specialist (CAPS) accreditations. If your searching for Remodeling Canton MI then give us a call today!
Home remodeling Canton MI requires a dedicated contractor who respects your home and honors your expectations. Whether you're adding an entire second floor or remodeling existing parts of your home, you'll receive superior workmanship and the personal attention you demand.
Jeffrey S. Stella is one of the select group of professionals nationwide to earn the Certified Aging-in-Place Specialist (CAPS) designation, identifying him as one of the building industry's top professionals with skills and knowledge specific to home modifications for aging-in-place and handicap accessibility.
At the start of your project you will receive a customized construction schedule that includes every major project step from start to final walk-through. Your Project Manager is responsible for following this schedule and ensuring that your project is completed on-time and on budget, barring major changes.
At Stella Contracting we want you as a customer for life. We have been standing behind our work since 1958. If you ever have a problem with our work or materials, we will solve the problem - period. To ensure your complete satisfaction with our work, we guarantee, in writing, all labor and material for a minimum of one year.
Our longevity of experience in the building trades assures you, the homeowner, of the best return for your investment dollar. We are dedicated to creating the perfect living space for you and your family.